Local SEO for Contractors in Maryland: 9 Tips to Dominate Local Search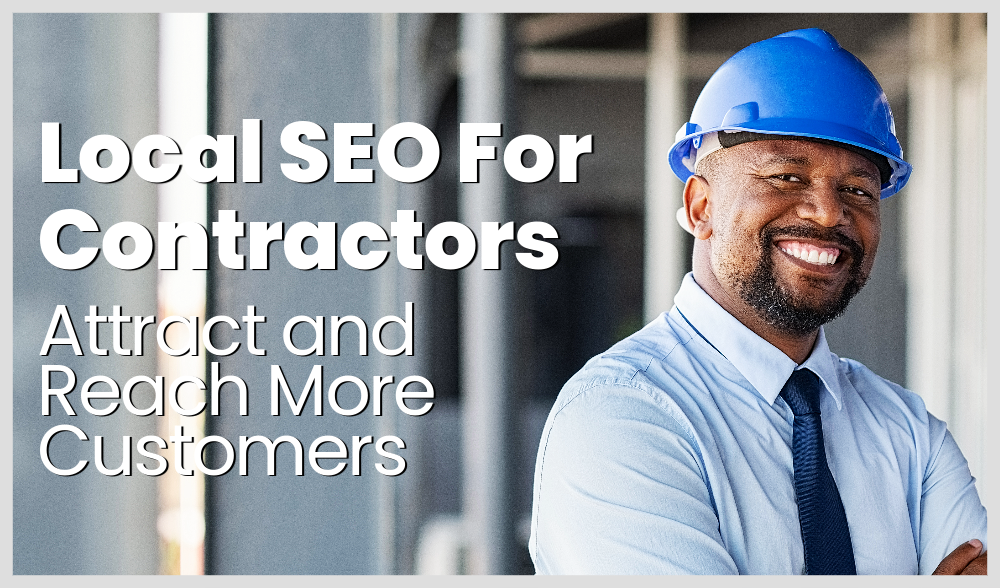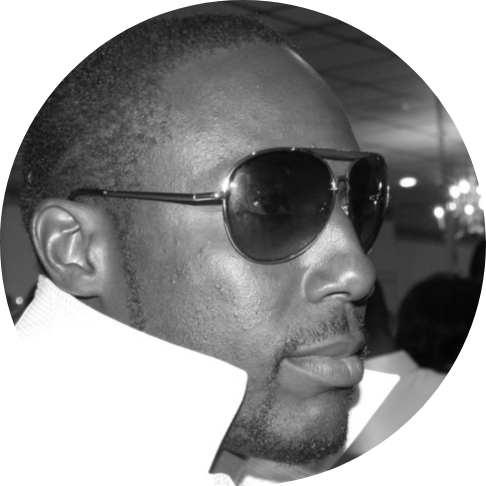 - by Kester Browne
Want to know about local SEO for general contractors? 
It's a game-changer for your business.
With hundreds of general contractors in Maryland, trying to attract more business is like yelling in a bustling, noisy market.
However, with the right strategies, local SEO can act as your megaphone, helping your contractor business outshine the competition, especially in the areas you serve.
Let's dive in!
What is Local SEO for Contractors?
Local SEO for contractors is search engine optimization tailored for contractors.
It is a strategic process designed to increase contracting businesses' online visibility within a local area. 
It's about optimizing various online elements—your website, content, and online profiles—to appear in local search results when potential clients seek your services. 
The goal? 
To ensure that when someone nearby searches for services like 'home renovation,' 'roof repair,' or 'kitchen remodeling,' your contracting business is one of the first they see, learn about, and, hopefully, contact. 
The fact that 46% of all Google searches are looking for something local, and that leads from SEO have a 14% close rate, underscores the importance of optimizing for local SEO.
This localized approach helps contractors connect more effectively with their community, allowing them to reach customers actively looking for their services in specific areas and fostering stronger, more meaningful relationships with local clients.
Why Do Contractors in Maryland Need Local Search Engine Optimization?
Local SEO is crucial for contractors who in Maryland want a solid online presence in their local markets. 
It's not just about getting your name out there; it's about making sure your services are visible and accessible when people search online. 
Here are several compelling reasons why contractors should invest time and resources into local SEO:
More Online Visibility:
Appear in local search results and reach potential clients actively looking for your services in specific areas.
Increased Traffic & Leads:
By appearing in localized searches, contractors can drive more qualified traffic and leads to their websites.
Higher Conversion Rates:
Local searches often have higher conversion rates as users conducting these searches have immediate needs.
Competitive Edge:
Stand out among local competitors by optimizing your online presence and appearing prominently in local search results.
Cost-Effective Marketing:
Local SEO is a more cost-effective way to reach your target audience and acquire new business than traditional advertising.
Local SEO for Contractors: 9 Tips to Dominate Local Search
Tip #1: Optimize Your Google Business Profile
Claiming your Google Business Profile (GBP) is non-negotiable.
Why?
Because it is one of Google's top local SEO ranking factors, and the most essential element of your local SEO strategy.
Without it, you become invisible to customers searching Google for your services.
Creating and optimizing your Google Business profile also allows you to appear in Google's local pack, which receives almost 44% of all clicks on the first page.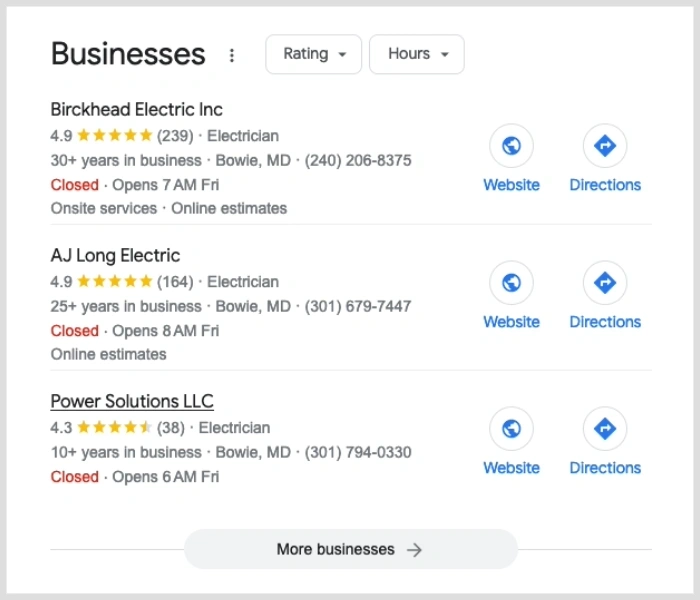 The journey doesn't end at claiming your page; optimizing your GBP page is critical.
This means populating your GBP page with precise and consistent information, such as your business name, address, phone number, services, and operating hours.
An optimized Google Business Profile page doesn't just increase your chances of featuring in local searches; it acts as a bridge connecting you to clients looking for your services in your local area.
It allows them to find and contact your business quickly.
How to Optimize Your Google Business Profile
After claiming your Google Business Profile listing, follow these steps to optimize it:
Maintain Consistent NAP Information
Ensure your Name, Address, and Phone number (NAP) are accurate, consistent, and formatted uniformly across all online platforms and directories.
Regularly review and update your NAP information to rectify discrepancies and promptly reflect changes.
Offer Multiple Contact Options
Display all possible ways to contact your business, including phone number and email address.
Specify your operating hours, including any variations for holidays or special events, allowing potential clients to reach out at appropriate times.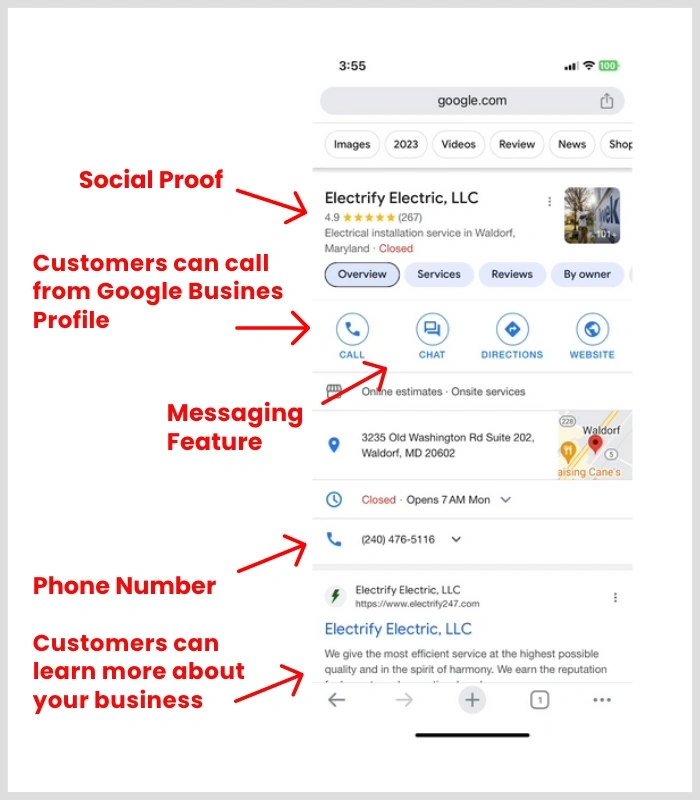 Set Up Messaging
Activate the messaging feature to allow potential customers to contact you directly through your listing.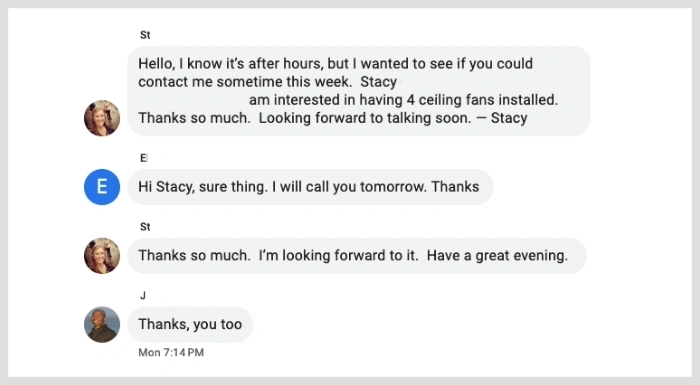 Respond to messages promptly.
Choose the Right Business Category and Subcategories
Select the most relevant primary category.
Add additional subcategories to define your services further.
Manage and Respond to Reviews
Encourage satisfied customers to leave positive reviews.
Respond promptly and professionally to all reviews, addressing any negative feedback constructively.
Create Informative and Engaging Posts
Publish posts regularly about news, offers, events, or updates related to your business.
Creating Google posts also shows the search engines that you are active and can help increase your business's web presence.
Use high-quality images and concise, clear text in your posts.
Tip #2: Optimize Your Website for Local Keywords
Google has been pivoting towards delivering more localized results.
Google is showing more local results nowadays. 
Using local words, or "local keywords," on your site helps you rank higher in the search results when people search for services. 
So, when you use words on your website like "near me" or "[your city name]," it helps you get seen by people nearby. 
This means more local people can find you easily when they are searching for the services you provide!
Local keywords on your website help you rank for:
Near-Me Searches:
"Contractors near me"
"Home renovation services near me"
"Electrician near me"
Locality-Based Searches:
"Contractors in [City/County/Area]"
"General contractors in [Suburb/Neighborhood]"
"Best contracting services in [City/Region]"
"Top builders [City/Area]"
Service-Specific Local Searches:
"[City] home remodeling contractors"
"[City] kitchen renovation services"
"[Area] commercial contractors"
Service + Location Searches:
"[Service] contractors [City/Area]"
"Residential contractors in [City/Region]"
"[Specialty service] companies in [Location]"
Google Map Pack
Local search results.
How to Find Local Keywords
Local keyword research is crucial for improving your local search visibility. 
Use tools like Google Keyword Planner or Ubersuggest to identify keywords relevant to your services and have a local search volume. 
Just input your services and location; these tools will generate a list of local keywords. 
Also, think like your customers by considering what you would search if you were looking for your services. 
Include your city, county, or other local area names in combination with your services. 
For example, if you're an electrician in Columbia, MD, you might use keywords like "Columbia MD electrician" or "electrician Columbia MD."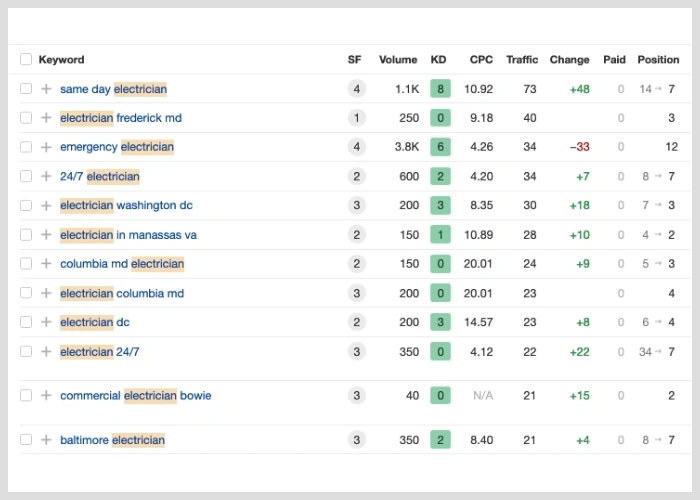 Remember to check out your local competitors' websites to see what keywords they use to help generate ideas for your site!
Where to use Local Keywords
Page Titles: Include local keywords in the titles of your web pages.
Meta Descriptions: Integrate local keywords into meta descriptions to encourage clicks from search engine results pages.

URLs: Where possible, include local keywords in your URLs to enhance SEO.
Header Tags: Incorporate local keywords in H1, H2, H3 tags, etc., to emphasize page structure.
Webpage Content: Sprinkle local keywords throughout your pages' text, images, and multimedia elements.
Image Alt Text: Use local keywords in images' alt text to improve image search visibility.
Blog Posts: Write blog posts around local topics and include local keywords in the content, headings, and meta tags.
Service Descriptions: Describe your services using local keywords to cater to the local audience.
Location Pages: Create location-specific pages with content containing relevant local keywords.
Local Business Schema Markup: Include local keywords in schema markup to provide more information to search engines.
Social Media Profiles: Utilize local keywords in your bio and posts to increase local visibility.
Tip #3: Submit to Local Directories
Submitting your business to local directories is crucial in bolstering your local SEO. 
By listing your business in these directories, you create valuable backlinks to your website and enhance your online presence, making it easier for potential customers to find you. 
Here are 19 prominent local directories where you can list your business:
Facebook
Apple Maps
Foursquare
HomeAdvisor
Thumbtack
Yellow.Place
YellowPages
Bing Places
Angie's List
LinkedIn Company Directory
Your Local Chamber of Commerce
Manta
Citysearch
Tip #4: Optimize Your Site for Mobile
Mobile optimization is no longer just an option—it's a necessity.
According to one statistic, 88% of searches  for local businesses on a mobile device either call or visit the business within 24 hours.
Many internet users rely on mobile devices to search for local services, making mobile-friendliness crucial for any general contractor looking to make an impact online.
When you optimize for mobile, it loads quickly and displays correctly on smaller screens, offering a seamless and user-friendly experience.
This appeals to your mobile users and pleases search engines, which tend to reward mobile-optimized sites with higher rankings in search results. 
Prioritize responsive design, ensure fast load times, and refine your site's navigation and layout for mobile. 
This ensures that potential clients, whether on a smartphone or a tablet, can easily access your services, interact with your content, and connect with your business—ultimately driving more local traffic and conversions to your contracting services.
How to Optimize Your Website for Mobile
Use a responsive design
Implementing a responsive design ensures your website adapts well to various screen sizes, offering an optimal viewing experience. 
This approach provides easy reading and navigation, reducing resizing, panning, and scrolling.
Consider phone sizes and holding positions
Designing with various phone sizes and holding positions in mind ensures that interactive elements are easily reachable and the overall user experience is intuitive. 
This consideration is crucial for one-handed usage and enhances the accessibility and usability of your site.
Simplify your navigation
Clear and simple navigation helps users find what they are looking for swiftly and efficiently. 
A streamlined menu with concise, straightforward options improves user interactions and satisfaction.
Simplify your forms
Short, straightforward forms help increase conversions and encourage more users to complete them, enhancing your lead generation efforts. 
Request only essential information to avoid frustrating users and to increase form submissions.
Optimize your CTAs
Clear and compelling CTAs guide users effectively to take the desired action, improving conversion rates. 
Place them strategically, making them prominent and easily accessible to boost user engagement.
Eliminate pop-ups
Excessive pop-ups can be intrusive and frustrating on mobile devices, leading to higher bounce rates. 
Removing or minimizing them enhances user experience and retains visitors on your page.
Make content short, concise, and scannable
Concise and scannable content allows users to grasp essential information quickly, improving content consumption. 
Short paragraphs, clear headings, and bullet points enhance readability and retention.
Optimize your page speed
Faster-loading pages improve the overall user experience, reducing bounce rates and enhancing site performance. 
Implementing speed optimization techniques like compression and browser caching is crucial to keep users engaged.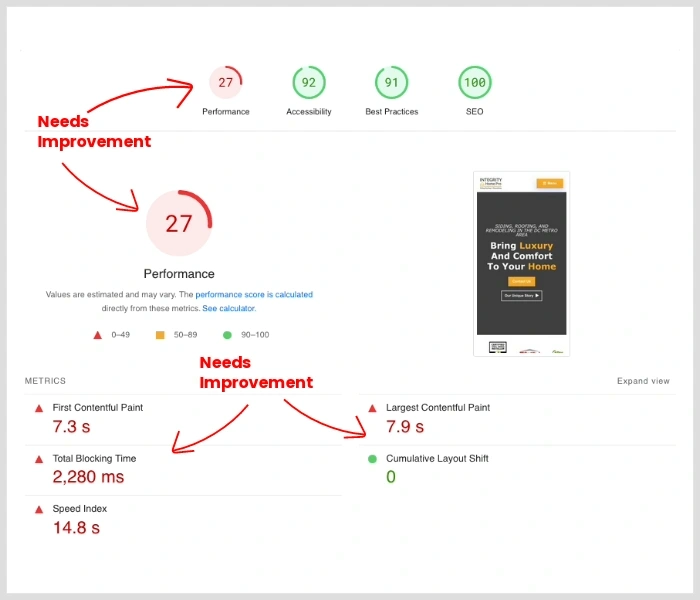 Optimize your images
Compressed and properly formatted images load faster, consuming less data and improving page speed.
They enhance the visual appeal without compromising the performance and responsiveness of your site.
Tip #5: Create Localized Landing Pages
One of the biggest mistakes local contractors make is not creating local landing pages. 
Localized landing pages are vital for businesses operating in multiple locations or offering varied services. 
It involves creating separate pages for each location or service, tailored with content, keywords, and information relevant to the local audience. 
This local SEO strategy enhances the user experience by providing more accurate and personalized information and significantly improves local SEO, making your business more visible in local search results. 
A well-optimized, localized landing page can drive targeted traffic, increase conversions, and ultimately contribute to the growth and success of your business in specific locales. 
Keep the content relevant, incorporate local keywords, and ensure the contact details are accurate and consistent across all localized landing pages.
Tip #6: Write Local Content
Writing localized SEO content is a pivotal strategy for enhancing your presence in the local markets and improving your local SEO. 
Local helpful content specifically addresses a local audience's interests, needs, and concerns, incorporating local keywords, references, and information. 
Doing so creates a stronger connection with your local customers and increases the likelihood of ranking higher in local search results. 
Your content should be relevant, helpful, engaging, and valuable, reflecting local events, news, or trends related to your business or industry. 
Whether it's blog posts, articles, or service pages, integrating localized content can drive more targeted traffic, foster community engagement, and ultimately elevate your brand's authority and trustworthiness in the local domain.
Examples of local content include:
Location-Specific Service Pages:
"Expert Plumbing Services in Waldorf, MD"
"Affordable Landscaping Solutions in Bowie, MD"
"Electrician in Waldorf, MD: Your Local Electrical Experts"
Local Blog Posts:
"Top 5 Home Generators to Buy in Waldorf"
"The Ultimate Guide to Landscaping in Annapolis"
"Everything You Need To Know About Buying a Swimming Pool in Maryland"
Tip #7: Acquire Local Links from Local Businesses
Securing local links from other businesses in your area is a powerful strategy to boost your website's domain authority and improve your local SEO. 
Link building for local SEO is the process of getting backlinks links from other local businesses.
This helps boost your website authority so you show up higher in the local search results which brings more people searching for your services to your website.
When local businesses, especially those with high credibility and authority, link to your site, it sends positive signals to search engines about your site's relevance and trustworthiness within the local community.
How to Get Links
Acquiring local links involves strategic outreach, building relationships, and providing value. Below are steps you can follow to secure local links effectively:
Identify Potential Link Partners
Start by making a list of local businesses, organizations, and institutions that are relevant to your industry or service. These could include suppliers, local blogs, community centers, and local chambers of commerce.
Sponsor Local Events or Charities
Sponsoring local events, sports teams, or charities can also result in valuable local links. Many organizations provide links back to their sponsors as a token of appreciation.
Leverage Local Partnerships
If you collaborate or partner with other local businesses, leverage these relationships to acquire links. Discuss mutual benefits and support each other's online presence.
Guest Posting
Offer to write guest posts for local blogs or websites in exchange for a link to your site. Ensure your content is high quality and relevant to the host site's audience.
Tip #8: Get More Positive Reviews
Reviews are the top three ranking factors that drive conversions and can turn searchers into customers.
Collecting more positive reviews is crucial for improving your online reputation, gaining trust from potential customers, and boosting your local SEO rankings.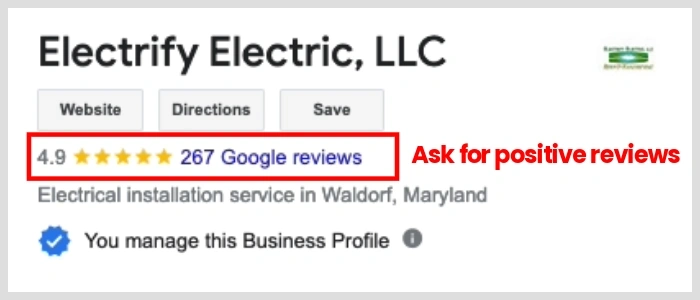 Online reviews are a form of social proof that can significantly impact your business's credibility and consumer's purchasing decisions. 
Here's how to encourage more positive reviews:
Deliver Exceptional Service:
The foundation for receiving positive reviews is providing excellent service and value to your customers. Ensure customer satisfaction through high-quality products, professional services, and outstanding customer service.
Ask for Reviews:
Don't shy away from directly asking satisfied customers to leave a review. Whether in-person, via email, or social media, a simple request can go a long way.
Make It Easy:
Reduce friction by providing direct links to your review platforms and guiding customers through the process. The easier it is, the more likely customers will leave a review.
Run a Review Campaign:
Consider running a time-limited campaign encouraging reviews, offering a small incentive like a discount or a giveaway for those who leave feedback.
Respond to Reviews:
Whether positive or negative, responding to reviews demonstrates that you value customer feedback. Thank your customers for positive reviews and address any concerns raised in negative ones.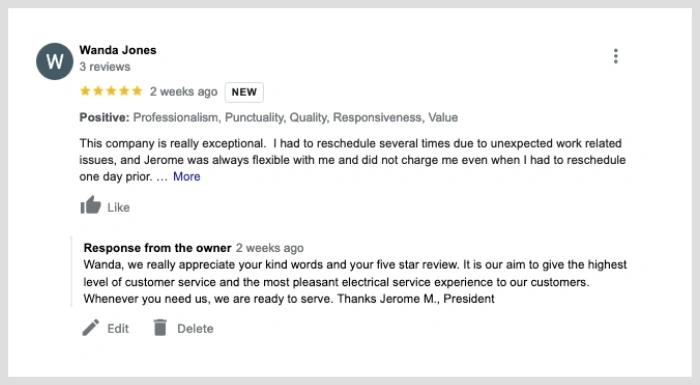 Tip #9: Get Involved in Your Community
Become active in your local community.
Local businesses involved in their local community create opportunities for links and mentions from local bloggers and news outlets.
Engaging in your community is a great local SEO strategy.
Businesses active in their local community often see increased website traffic, conversions, and customer loyalty.
This is because people want to do business with a local business they know and trust.
Finally, being active in the community can help businesses generate leads.
Local customers are likely to stumble upon the company's website or blog.
They may contact your business and become a customer when they find your website.
Bonus Tip: Get Professional Help if You Need it
If you're looking to optimize your contractor company website but find yourself short on time or expertise, consider partnering with an SEO specialist.
An SEO specialist can help you, especially if you don't have the time to do SEO.
With guidance from an expert, your business will not only have a robust online presence but will also draw in customers with ease.
Final Thoughts: Local SEO for Contractors
Standing out as a general contractor can feel like finding a needle in a haystack.
But with Local SEO, you're not just any needle; you become the magnet that attracts the haystack.
By prioritizing and implementing effective local SEO strategies, you position your business not just to be seen, but to be chosen, trusted, and recommended.
Remember your digital footprint is often the first impression you make. So make it a lasting one.
Embrace Local SEO, fortify your online presence, and watch as your local community turns to you for their contracting needs, time and time again.
Are you going to start doing local SEO for your contracting business?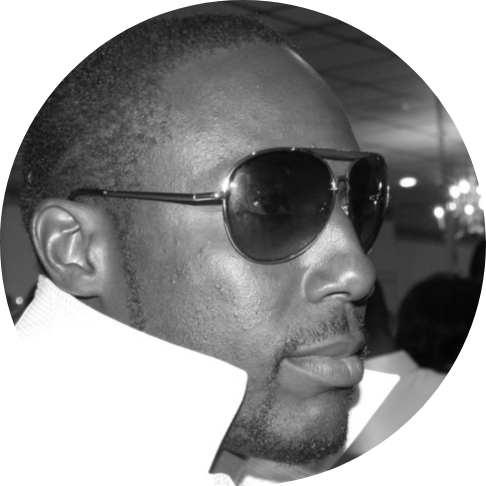 About the author
Kester is the Director of SEO at Bowie SEO. He has been doing SEO and digital marketing for more than 4 years. When not engulfed in SEO or building websites, you can find him with his family, riding his bike, or relaxing in front of his aquarium.
Other Interesting Posts